Bulk Christmas Lights, Christmas Tree Lights, and Outdoor Christmas Lights in Bellevue, NE
Make your Bellevue, NE, home the envy of the neighborhood this holiday season with affordable bulk Christmas lights from Brite Ideas Decorating. With a full selection of indoor and outdoor Christmas lights, including C9 LED Christmas lights, Christmas tree lights, and more, we make it easy to illuminate your home with a dazzling display that delights your neighbors without driving up your power bill.
C9 LED Christmas Lights in Bellevue, Nebraska
Brite Ideas Decorating offers a wide selection of Christmas lights for Bellevue, NE, including traditional C7 and C9 LED Christmas lights.
These are the classic Christmas light bulb shapes most people associate with holiday lighting. C9 and C7 lights come in smooth and faceted styles (C9 being the larger of the two) in a wide array of eye-catching colors.
We offer bulk Christmas lights, including C9 bulk bulbs, for displays of all sizes. Prevent burned-out bulbs from causing gaps in your outdoor lighting scheme by keeping a supply of replacement bulbs on hand for quick fixes. We also offer a variety of accessories, such as cords, hardware, replacement clips, and more. Our selection of bulk Christmas lights includes colored and white lights and light sets to bring any design idea to life, and with bulk bulb and string options, you can design a fully custom, one-of-a-kind display.
Christmas Tree Lights in Bellevue, Nebraska
Brighten your Bellevue home's interior during the holidays with Christmas tree lights from Brite Ideas Decorating.
Illuminate your real or faux tree with a full selection of bulk Christmas lights, including sets of LED Christmas lights. Stock up on C7 or C9 bulk bulbs to keep your tree twinkling and festive all season. We also have a variety of custom florals, decorated greenery, and outdoor or indoor Christmas displays.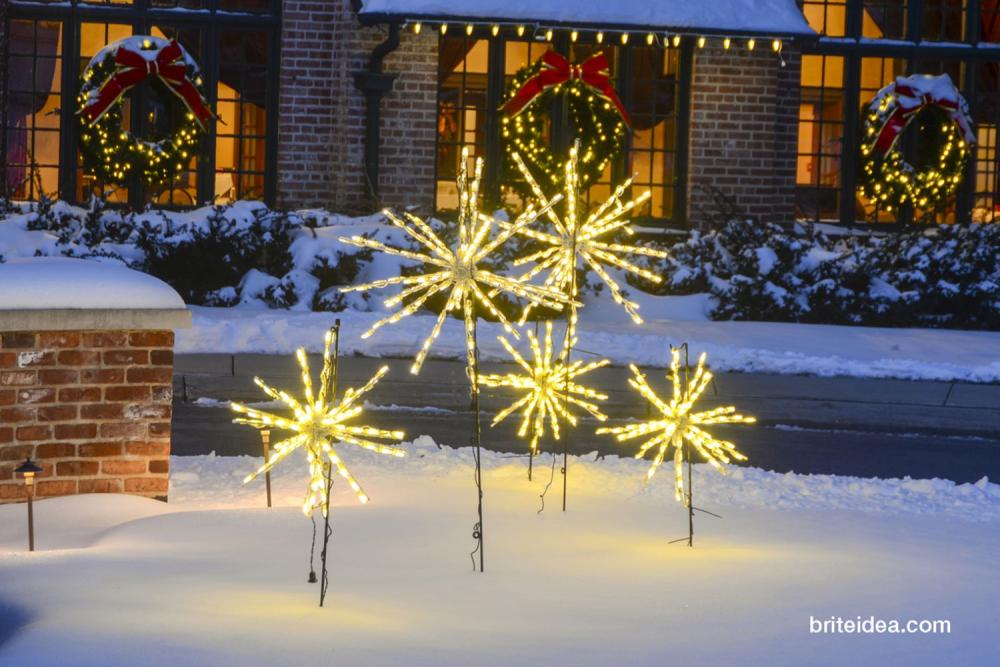 Brite Ideas Decorating is located near Bellevue in Omaha, NE. We have distributors all across the US, and our shop is available online nationwide. Our Omaha showroom attracts visitors far and wide, including travelers from nearby Bellevue, Nebraska.
The third-largest city in Nebraska, Bellevue is a scenic small city bounded by the Missouri River. The name Bellevue is French for "beautiful view," and the city doesn't disappoint with its stunning vistas of the Great Plains. The approximately 65,000 residents enjoy a quiet, family-friendly way of life, plenty of outdoor activities, and easy access to the cultural activities of nearby Omaha.
To light up your Bellevue home or business during any holiday season, shop Brite Ideas Decorating for inspiration and bulk Christmas lights guaranteed to delight people of all ages. Whether you want to go all out with a colorful display of outdoor lights set to music or prefer a subtler approach with all-white lights, Brite Ideas Decorating has the Christmas lights you need to make the season bright.
---
---
---
See What's New
Request a Quote
Brite Ideas is one of the nation's largest manufacturers of specialized outdoor holiday lighting. We have over 400 distributors across the U.S., creating beautiful customized lighting displays for nearly every season or event. Visit our showroom, shop online, or contact us for more information.
---
Brite Ideas Decorating