Bulk Christmas Lights, Outdoor Christmas Decorations, Wholesale Holiday Lighting, and Much More
Brite Ideas is the leader in LED light displays. Whether it's for a residential or commercial property, our displays are sure to delight both the young and old. Bring holiday cheer to your neighborhood or commercial park with unique, high-quality displays in popular Christmas themes. Visit our store in Omaha, Nebraska, the Midwest's largest Christmas store, or browse on-line to get your holiday inspiration.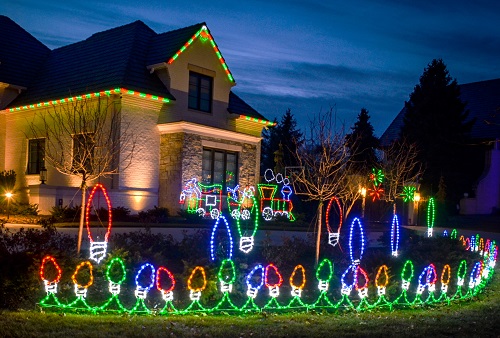 Starbursts are eye-catching and elegant bursts of light that can add depth and interest to your holiday display. They come in a variety of sizes and colors.
Stake them in your landscaping to add a unique cluster of light to your ground scape. Hang them in trees to add whimsy to your Santa display or to look like stars in your nativity scene. After you hand wrap a fir tree, use a starburst as a tree topper.  These are a must-have in your holiday display. Stand out with starbursts!
As much as we love a simple string of lights along a roofline, Linkables are a great alternative to the classic string of lights. Linkables take your lights to the next level. Great on residential and commercial properties, Linkables come in a variety of designs. Snowflakes, stockings and candy canes are always popular. However, Brite Ideas, the creator of the Linkable, has over a dozen designs to choose from.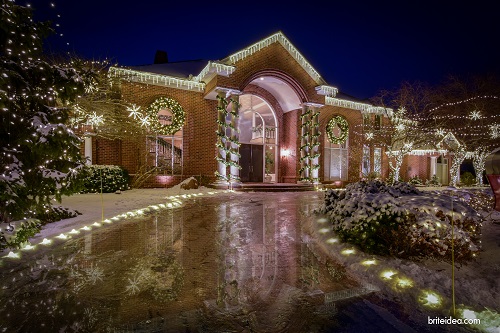 Welcome to the Midwest's largest, year-round Christmas Wonderland. Brite Ideas is a destination store in Omaha, Nebraska. 
All our LED light displays are on display. This way you can see and feel the difference our quality craftmanship makes.
Along with being able to purchase our displays, we have a full line of LED concave string lights, C7s, C9s, G40s, G50s and more, available in a variety of colors and styles.
The store is an enchanting wonderland, filled with custom decorated trees, garlands and wreaths; unique Christmas decor, ornaments and picks. Everything you need to decorate your residential or commercial property, inside and out. 
Brite Ideas will not disappoint. It's 24/7, 360* of holiday eye-candy on-line and in store. Come enjoy the season with us all year!